Story: COLIN DAWSON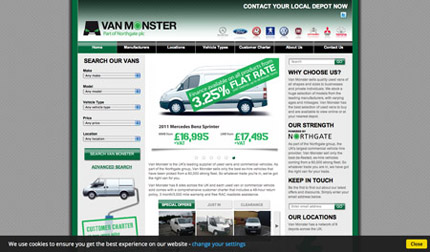 Looking for a used van in The North, Midlands or west Scotland? Then commercial vehicle retailer Van Monster has launched a new website aimed at local businesses in need of secondhand vehicles at 'competitive prices'.
The recently launched website www.vanmonster.com offers a range of features and refreshed content intended to make the site user-friendly and encourage interaction. Features include comprehensive tools allowing the business van buyers to search for vans by make, model, type, price and location, plus an advanced facility with more detailed search fields.
Van Monster, part of the Northgate group, sells ex-hire vehicles from a 60,000-strong fleet. Each used commercial vehicle sold is supplied with a comprehensive customer charter that includes a 48-hour return policy, three-month/3,000-mile warranty and free RAC roadside assistance.
The company has eight sites across the UK, in The North and Midlands at Bridlington, Cannock, Darlington, Leicester, Wakefield and Warrington, and at Newmains, in west Scotland. It also has a site in Colchester, Essex, and is about to open a ninth site in Slough to serve company van buyers in the Greater London area.
Van Monster Managing Director Gary Sullivan told Business Vans: "As demand for quality used vehicles is growing at a considerable rate, we wanted to provide our business van customers with a more interactive experience by taking our website to the next level. The ultimate aim of is to help support local businesses when they come to research or purchase one of our quality used vehicles while, at the same time, growing our online presence. We feel that the new site reflects the thinking and efforts of Van Monster."
Do You Have A Van Leasing Question?
Feel free to ask us your question...